Having fun in the water is one of those recreational activities that the entire family can enjoy with kids of all ages. No matter the season, it's nice to have some indoor swimming pool options. In Kitsap County, there are several. We've grouped them for you in one location:
Bainbridge Island Metro Park and Recreation District
8521 Madison Ave N, Bainbridge Island, WA 98110
206-842-2302 | info@biparks.org
Open to the public
Admission: $7 ($7.50 non resident) for youth and seniors; $8 for adults ($8.50 non resident)
Find detailed fee and pass information here.
Ray Williamson Pool
A six lane 25-yard pool was built in 1970 as an outdoor pool. In 1977 a roof was added to fully enclose the pool. The pool is the home site for Bainbridge Island High School Swimming, Diving, Water Polo teams, Bainbridge Island Swim Club (BISC), and Bainbridge Aquatic Masters team (BAM). In 2012 a solar water heating system was installed to reduce heating costs during the summer month.
Don Nakata Memorial Pool
Built in 2001, the 360,000 gallon pool includes a 180 foot water slide, lazy river, sloped beach entry, tot pool, water futures, toddler frog slide, one and three meter diving board, and four 25-yard lap lanes. The facility also houses a spa, steam, and sauna rooms.
---
2261 Homer Jones Dr., Bremerton, WA 98310
(360) 377-3741
Choose from a YMCA membership or a Day Pass ($15 per family if accompanied by a current member, $25 per family if not) to enjoy indoor pool amenities such as a hot tub, and recreational pool/lap pool.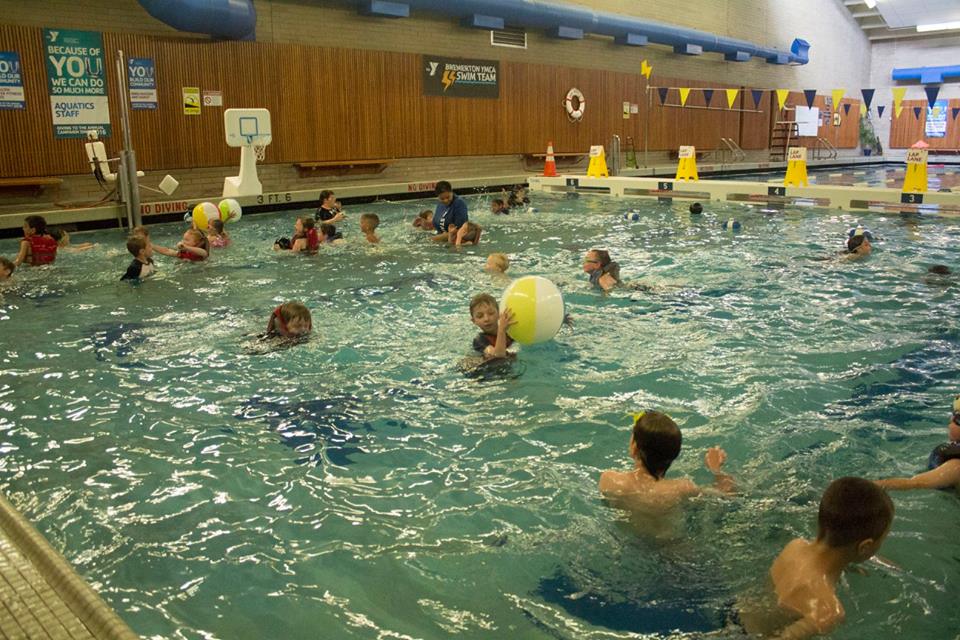 ---
3909 NW Randall Way, Silverdale, WA 98383
360-698-9622
Choose from a YMCA membership or a Day Pass ($15 per family if accompanied by a current member, $25 per family if not) to enjoy indoor recreational and lap pool amenities, a lazy river, and a hot tub.
---
1909 NE John Carlson Rd., Bremerton, WA 98311
(360) 692-8075
The Kitsap Tennis and Athletic Center offers a wide range of tennis, swim and fitness classes and activities for all ages. Open swim and public swim are also offered in this salt-chlorinated, 83-degree pool.
Memberships are available but are not required to stop in for a swim or usage of any KTAC amenities! Public Swim $8 per person or $20 for a family of three or more! Public Swim times are subject to change.
---
1881 NE Hostmark, Poulsbo, WA 98370
(360) 396-3285
Open to the public
Recreation/lap swim rates are $4.25 for Youth/Seniors/Disabled and $5.25 for adults. Other pricing options are also available including passes and prepaid punch cards. Fee and rate information can be found here.
The North Kitsap Community Pool is a recreational 25 yard L-shaped pool that is maintained at 84-85 degrees. They offer a wide range of services including swim lessons, water aerobics and lap swim just to name a few.
---
Olympic Aquatic Center
Olympic High School
7077 Stampede Blvd. NW, Bremerton, WA 98311
(360) 662-2886
TEMPORARILY CLOSED
Open to the public
General Admission: $5; Children (5-17) and Seniors (55+) $4
Children age 4 and under: Free. Family Swim (2 adults and 2 children): $12 (adults must be in water with children)

Recreation swim, family swim, and swimming lessons are available. The pool is 25 yards long and features a separate shallow end. Depths range from 3 to 12 feet.
---
425 Mitchell Ave., Port Orchard, WA 98366
360-874-5741
TEMPORARILY CLOSED
Open to the public
Recreational Swim: $3.50 per person or $10 per family (up to 5 immediate family members only)
Any child under the age of 7 needs a responsible adult in the water with them during recreation swim.
Open for lap swim, family swim, swim lessons, special training classes, water aerobics, and to rent for special occasions.
MEMBERSHIPS REQUIRED -
INDOOR & OUTDOOR POOLS
3045 Madrona Drive SE, Port Orchard, WA 98366
Membership Required - They have a wait list
This 87-degree family-sized pool is 5 feet deep at the deepest end and 3 feet at the shallow end. It is about 1/2 the length of a regulation pool. Swimming lessons available. They offer water aerobics Monday through Thursday at 8:30am and 9:30am and you do not have to be a member to participate, just go to the Parkwood website for more information. (There is a $5 per month membership fee for their Aerobic Only Members in addition to the cost of the class.)
The Pool at Peasant Beach Village
7880 Pitts Path Lane NE, Bainbridge Island, WA 98110


3885 NW Golf Club Hill Road, Bremerton, Washington 98312
360.377.0166
Wing Point Golf & Country Club
811 Cherry Avenue Bainbridge Island, WA 98110
206.842.2688
If you know of a local pool that should be added to this list, please contact us with the details.
Macaroni Kid Kitsap is your best source for kid activities and family fun in Kitsap County!
Check the CALENDAR for a comprehensive list of local events that are guaranteed to entertain, educate, and exhaust.
Be sure to follow us on Facebook, Twitter, Instagram, and Pinterest
for last-minute event updates, news, and fun ideas!
Get a weekly dose of all this goodness by subscribing to our FREE weekly eNewsletter.