Kitsap Live Steamers, a popular attraction for families, reopens for the season on
April 9, 2022
. Located in South Kitsap Regional Park in Port Orchard, the
Kitsap Live Steamers
train track was expanded in 2020-2021.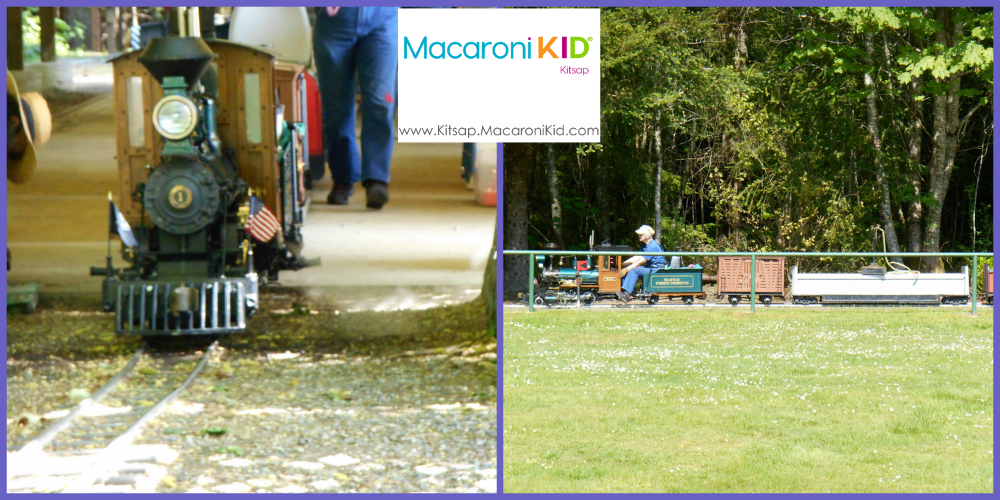 *subject to prior notice and weather conditions
In 2017, Kitsap Live Steamers put the first ADA-accessible train car into service. It includes a riding car designed to accommodate a manual or motorized wheelchair. A ramp is used to negotiate the 4½" elevation onto the 30" x 60" platform. Several tie downs are used to secure the chair in place. A second straddle car is provided for family and friends. This newer addition makes this fun recreation option accessible to even more community members and visitors.
Kitsap Live Steamers offers donation-supported rides to the public and is in operation the second and fourth Saturdays of each month, April through October from 10 AM to 4 PM (weather permitting). Plus, some special run days that are not Saturdays, like Memorial Day and 4th of July. You will always find the dates listed on Macaroni KID Kitsap, including holiday and special runs.
New members are always welcome to join and help keep the trains running. Become a member of Kitsap Live Steamers, Inc. to really enjoy the railroad hobby. You can learn to be a conductor and engineer and join in the fun. You do not need to own your own locomotive. Once you are qualified you can check out and give your family and friends rides. We are pleased to offer a 50% membership discount to active duty military and their families. For additional information, please check our Facebook page or kitsaplivesteamers.org.
Kitsap Live Steamers, Inc. is a non profit organization. Rides are given on a donation basis. It is only through the support of the public and members that this railroad will survive and continue to grow. Our purpose is to maintain and improve our railroad so that we may share this enjoyable experience with you. The goal is to educate the public regarding trains and railroad safety as well.
Kitsap Live Steamers
3101 SE Marbeth Lane
Port Orchard, WA 98366